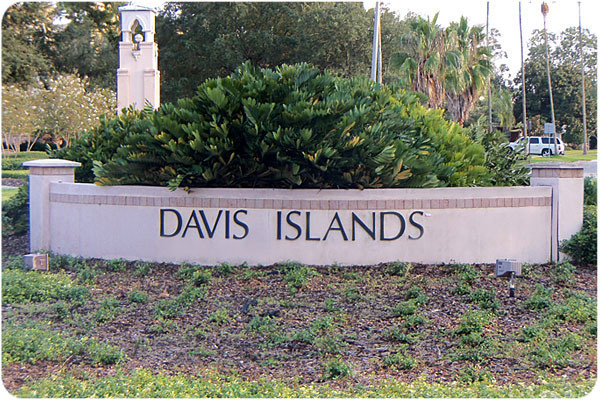 Tampa Realtor Sandy Ernst has lived and worked in Tampa for many years and has assisted many clients with their Davis Islands home buying and selling needs. Here Sandy shares some of the history of this truly unique part of the Tampa Bay area.
Davis Islands History
Davis Islands was built upon two man-made islands atop two small natural islands formerly known as "Little Grassy Key" and "Big Grassy Key" at the mouth of the Hillsborough River. The islands were built from mud dredged from the bottom of Tampa Bay in the 1920s and this dredge-and-fill operation was undertaken at the height of the Florida land boom by developer and Tampa native D. P. Davis.
Davis then purchased all the dredged land for $350,000. He planned a resort community with three hotels, a nine-hole golf course, airport, and swimming pool and got the City Hospital (now Tampa General Hospital) and the top radio station moved to his island.
D.P. Davis then sold 306 of the original lots for $1.6 million but the development stalled when the Florida land boom of the early 1920s wound down, and Davis was mysteriously lost at sea while making a transatlantic voyage in October 1926.
Many of the original Mediterranean-style structures built during the islands beginning are still standing and have received national recognition, as well as local protections, including the Palace of Florence and Mirasol.
The Davis Islands Real Estate Market
The Davis Islands real estate market combines a true small community feel (there are no stop lights on the island) with all that Downtown Tampa, Hyde Park and Bayshore Blvd. have to offer just a quick drive over the bridge. With a vibrant mix of condos, single-family homes and waterfront mega-mansions, Davis Islands real estate offers the perfect island living experience.
If you have any questions about Davis Islands homes for sale Sandy will be happy to assist.
Davis Islands Things to do
While not heavily populated, Davis Islands offers a variety of things to do both inside and out. The Davis Islands Village area of the islands offers shops, restaurants and entertainment. Open green spaces, dog parks and other recreational options are plentiful such as fishing, fitness trails and the Sandra Freeman Tennis Club.
In fact, the Davis Islands Trail is a 10-foot-wide asphalt pathway that runs 1.3 miles from Channel Drive and Davis Boulevard to the parking lot at Peter O. Knight Airport and offers amenities such as benches overlooking the marina and water fountains.
In 2014, the Roy Jenkins Pool reopened after a $2.5 million renovation. The 85-year-old building has two pools, one with five swim lanes extending 75 feet, and the other a pool perfect for the kids. The Davis Islands Yacht Club is also a great place to relax with neighbors.
If you get the chance to explore all that Davis Islands has to offer you won't be disappointed.