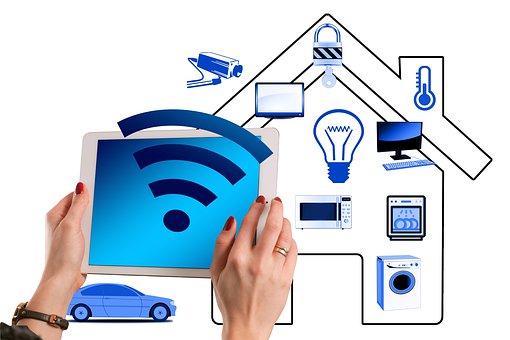 Experienced Tampa Realtor Sandy Ernst has seen fads come and go in real estate. One of the latest trends, one that can actually provide added safety and save money is the smart home.
There are easy ways to transform your home into a Tampa smart home whether it's lighting, cleaning, appliances, security or temperature control.
But the first decision is whether to automate device-by-device or go all-in with a house-wide smart hub that can control everything. It's a matter of personal preference because doing one at a time can be easier and cheaper but can also be difficult to upgrade if needed, while the smart hub may be somewhat limiting in the present but can pay off later.
Here, Sandy explains some of the basics of creating a Tampa smart home of your very own.
Start with Great Wi-Fi
Having fast, reliable Wi-Fi throughout in the house is the basis of any well-functioning smart home. And making sure your Wi-Fi can reach every room and device is key because if the signal can't reach upstairs or the garage, then smart devices in those areas are useless. This may call for multiple, connected routers, but test your existing router first by testing a connected laptop or phone from room to room.
Smart Locks
A great convenience, smart locks unlock your front door lock with the tap of a finger, communicating via Bluetooth with your phone. Some smart locks replace the deadbolt, some fit over existing locks, and more so choose the right one for you.
Smart Doorbell
What if you're not home and you're expecting an important package? A smart, video doorbell lets you answer your door from your phone, seeing and speaking to whomever is at the door. Because the video is one way, you can see them but they can't see you, while you can have a 2-way conversation and ask the delivery person.
A side benefit of a smart doorbell is that it can also be motion triggered which has taken many a picture of the notorious "porch pirates" who steal unattended packages.
In-Home Video
Having a security camera in your smart home lets you keep an eye on things while you're away enabling you to check on pets, kids, housekeepers and more. Some systems send motion-activated alerts to your phone, record in HD video, and have a siren built into an app so if you see and intruder you can trigger the alarm and call the police. Videos stored in the cloud can be accessed from anywhere using an app.
Smart Lighting
Adding connected lights to your home is one of the easiest ways to make your Tampa home smarter and more efficient. An easy way to get going is with a starter kit, which comes with a Wi-Fi enabling bridge, light dimmers, and a remote. Set schedules using an app or control the lights from your phone at home or on the road.
Smart Thermostat
A smart thermostat can help save energy and money and make your home just the right temperature for when you arrive. It can learn your habits and adjusts itself, whether it's adjusting the A/C or turning up the heat. In addition to an app, some let you use your voice to control your thermostat and set menus and schedules in conjunction with other connected devices.
Check Compatibility First
Most of the smart amenities listed above are simple enough for DIY installation and can easily integrated with the home assistants that are popping up everywhere such as Alexa, Echo, Apple's HomeKit and more. The key is to make sure that all your smart devices will be compatible before buying any device or system.