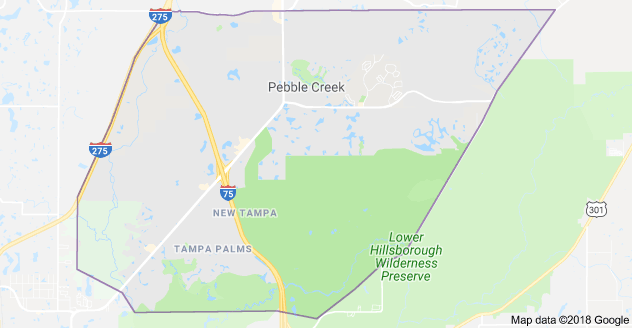 Over the past few decades the Tampa Bay area has seen explosive growth, with an area named New Tampa leading the way. During her career assisting buyers and sellers of real estate throughout the area Realtor Sandy Ernst has seen the birth of New Tampa and its continuing growth and offers insight into how the area began and where it is heading.
The History of New Tampa
The boundaries of New Tampa are Lutz to the west, Wesley Chapel to the north, Morris Bridge Road (near Thonotosassa) to the east, and the university community and the University of South Florida (USF) to the south.
The New Tampa area remained almost completely undeveloped until the 1980s when the city of Tampa annexed the 24-square-mile area. Development began with oldest neighborhood in the area, Pebble Creek, with the Tampa Palms community following not long behind. The 1990s saw continued and faster growth as communities were developed and the infrastructure and businesses to support the growing population was created.
New Tampa was accounting for roughly 50% of Tampa's overall population growth by 2005 and with growth came growing pains. The rapid construction of infrastructure and the growing population from new development and high-density housing (condos, townhomes, etc.) strained resources and created busy streets and traffic congestion.
But New Tampa residents made their voices heard and numerous projects have been completed with more underway to relief those growing pains even as more and more retail outlets and housing developments open for business in the area.
New Tampa, Today
Today New Tampa continues to grow with gated communities, condos, apartments, new office space and more being constructed. But planning of amenities to enhance on the entire New Tampa living experience is growing as well with nature trails, protected woodlands, and more being created/preserved throughout the area.
Golf also continues to be a staple in New Tampa with challenging courses including Pebble Creek and Tampa Palms Golf & Country Club while local parks such as Lettuce Lake Park and Hillsborough River State Park provide easy access for locals and visitors alike to experience Florida at its natural best. And with immediate proximity to USF and easy access to venues throughout Tampa, sports, concerts and more are just a short drive away.
And as New Tampa matures growth continues in the areas surrounding it as Wesley Chapel to the north and Lutz to the west further expand in population, neighborhoods and infrastructure.
Questions? Sandy is Ready to Help
If you have questions about any issues surrounding the sale or purchase of a Tampa area home Realtor Sandy Ernst will be happy to assist and provide the information you need.