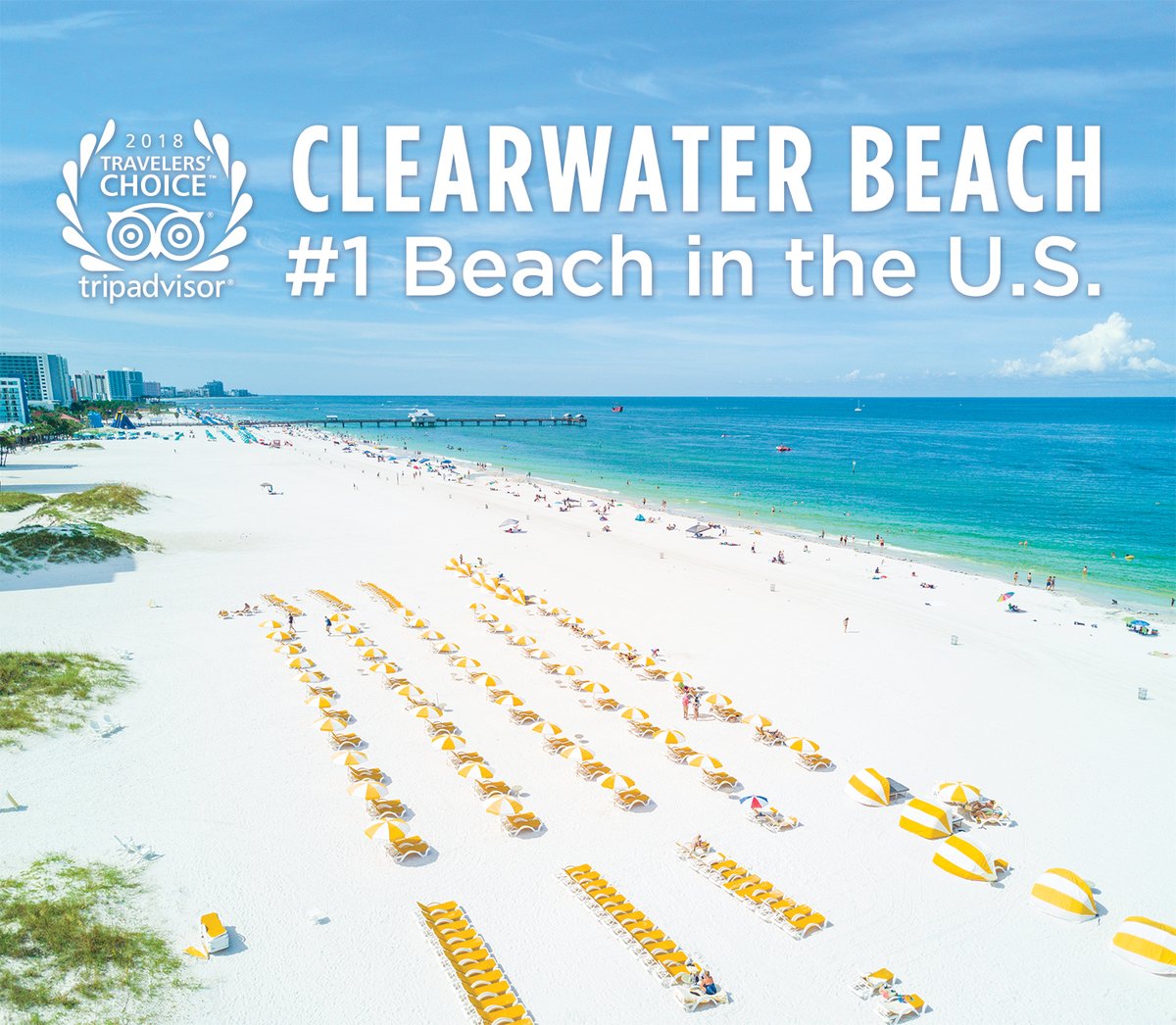 TripAdvisor announced the winners of its Travelers' Choice® awards for Beaches and two Tampa Bay area destinations were voted Top 10 with Clearwater Beach taking the #1 spot and St. Pete Beach earning 7th best beach in the U.S.
Award winners were determined based on the quantity and quality of traveler reviews and ratings for beaches on TripAdvisor, gathered over a 12-month period.
Clearwater Beach – Voted Best Beach in America
TripAdvisor said: About a 35-minute drive west of Tampa, Clearwater Beach dazzles with two and a half miles of sugar-white sand, crystal-clear waters and tranquil Gulf breezes. Perched on a barrier island, the beach offers calm, shallow water, making it an ideal playground for families. "GREAT white sand beach ... very long, so if you are a beach walker, you will be happy. There is nothing like FL white, silky, sand! I love it!" shared a TripAdvisor traveler.
Home to some of the best beaches in America, Clearwater is a great family beach destination… it's calm, old-fashioned Florida… which is something worth seeing. Oh, and the weather's outstanding.
Want to Buy a Clearwater Beach Home for Sale?
Clearwater Beach's location places it in the center of things to do with great local amenities. If water views are your focus there is no shortage of housing options from elegant estate homes to townhomes with all the amenities. But Clearwater Beach also offers more affordable homes and quiet, residential areas that, while they don't offer sunset or water views, do deliver immediate access to all that the area has to offer.
You can explore all Clearwater Beach real estate currently for sale by clicking Here.
St. Pete Beach– Named 7th Best Beach in the United States
TripAdvisor said: Saint Pete Beach is famous for its golden-white sand and aquatic activities, such as parasailing, stand-up paddle boarding and windsurfing. Sugary-white sand, dolphins frolicking just off shore and eight major barrier islands make St. Pete Beach a postcard-perfect seaside destination.
St. Pete Waterfront balances its charms with top-notch art museums, including the largest collection of Salvador Dali paintings outside of Spain. Kayak through the calm waters, to experience the state's wild beauty or stroll the rapidly gentrifying downtown for one-of-a-kind cafes.
Want to Buy a St. Pete Beach Home?
The St. Pete Beach real estate market offers everything from great water views from worry-free condos and townhomes to luxurious waterfront mansions overlooking the Gulf of Mexico or Intracoastal Waterway to cozy beach bungalows. In addition, the area is a great market for second or seasonal homes that can also offer rental income possibilities.
You can explore all St. Pete Beach real estate currently for sale by clicking Here.
Questions? Sandy is Ready to Help
If you have questions about any issues surrounding the sale or purchase of a Tampa Bay area home Realtor Sandy Ernst will be happy to assist and provide the information you need.